iOS 17 Beta 8 is Here: How To Install It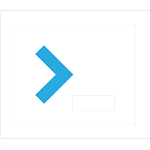 Misc
The iOS 17 Beta 8 is here, bringing several new features to your iPhone, including customizable lock screens, intelligent cropping features, and the ability to unsend text messages. It's an exciting release and packs a punch with a large list of new features.
This tutorial will walk you through the Apple Beta Software Program enrollment so you can install the latest beta version of iOS on your iPhone and test your apps.
Back Up Your iPhone Before Going Further
Getting your hands on the latest and greatest can be exciting, but you should still take extra precautions before upgrading. Since this version of iOS is still in the beta stages, bugs may exist that could make your device hard to navigate or even unusable.
Before you move forward with any upgrade, you should always back up for your iPhone. You can do this on your device by going to Settings > iCloud > iCloud Backup and tapping the Back Up Now button.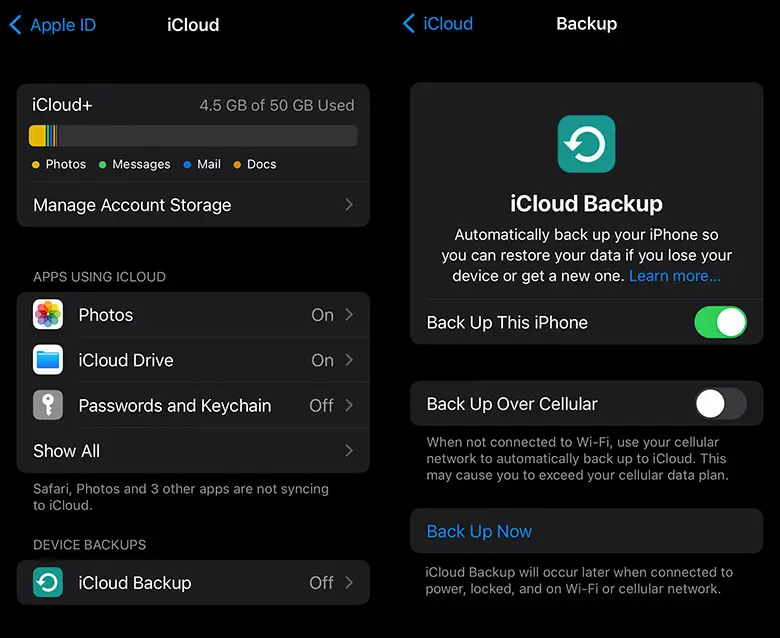 You can create an additional backup on your Mac through the Finder application. Connect your device to your Mac computer, open Finder, choose your device, then create a backup.
For Users Already Enrolled in the Beta Program
If you're already enrolled in the Apple Beta Software Program, you'll see the option to automatically upgrade to iOS 17 Beta in your device's Software Updates section. Select the option you'd like to proceed with and continue automatically without having to complete the full process.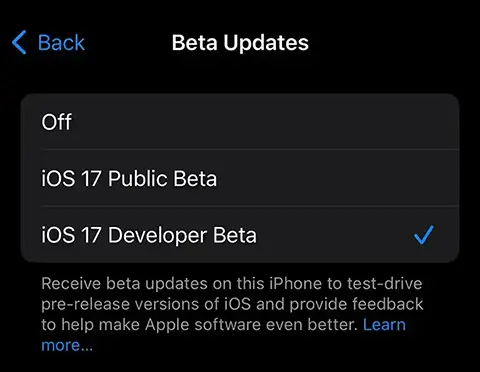 Sign Up for the Apple Beta Software Program
Now that you have a reliable backup of your iPhone, you can enroll in the Apple Beta Software Program.
To enroll, follow these steps:
1. Go to the Apple Beta Software Program website in the Safari browser on your iPhone.
2. Tap the Sign Up button at the bottom of the screen.

3. Tap the "Continue with Passcode" button in the native popup window, then enter your device's passcode when prompted.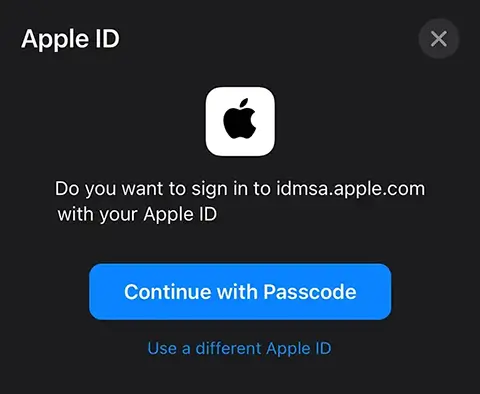 4. Scroll about half way down the page and tap on the enroll your iOS device link.
5. Tap the download the configuration profile link. You'll receive a native prompt requesting permission to download a configuration profile to your device. Tap the Allow option to proceed.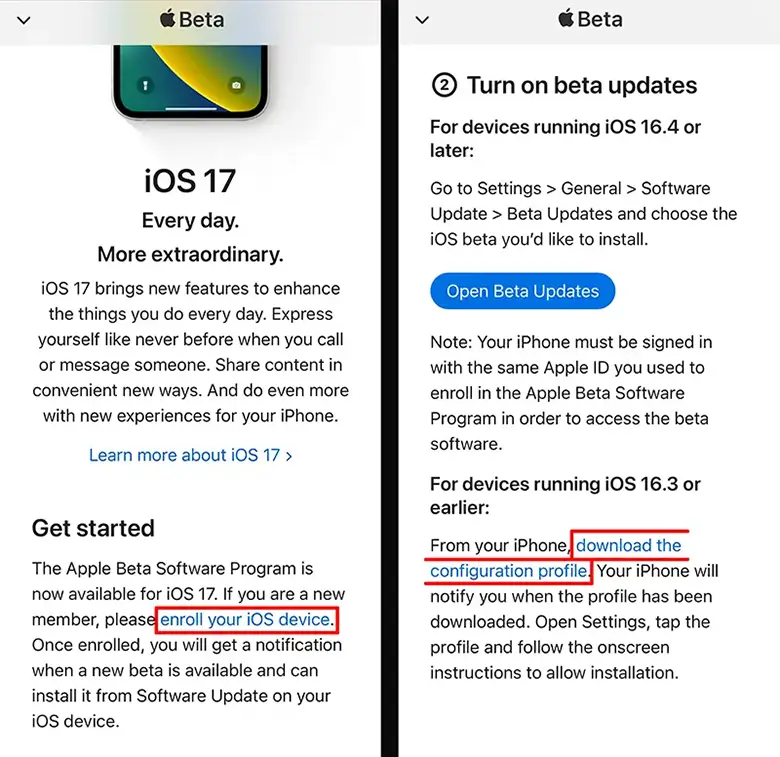 6. You'll receive a permission request to download the configuration profile. Tap the Allow option to proceed.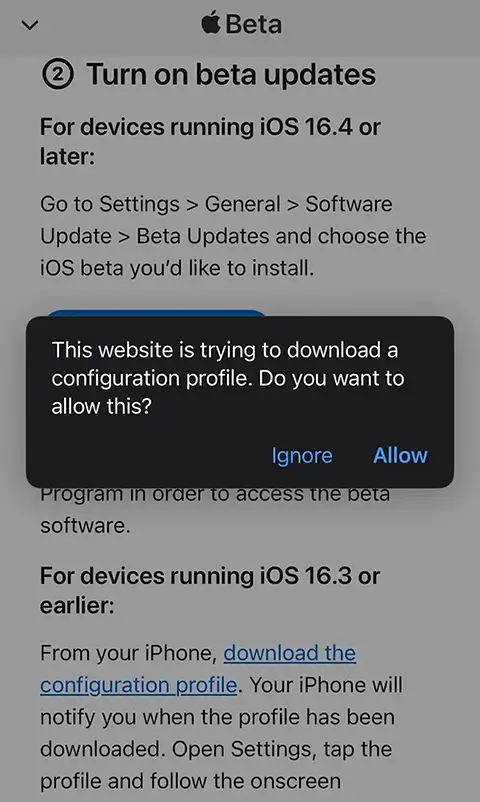 7. You'll receive a native popup once the configuration profile has been downloaded successfully.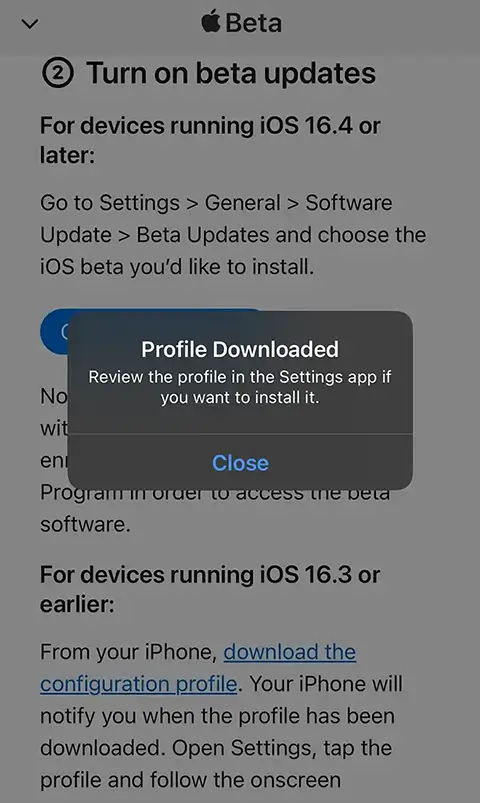 Install the Configuration Profile
Now that the iOS 17 Beta configuration profile is available on your device, open the Settings application. You'll see a new option near the middle of the screen titled Profile Downloaded. Tap this option, then tap the Install link in the top-right corner to install the profile.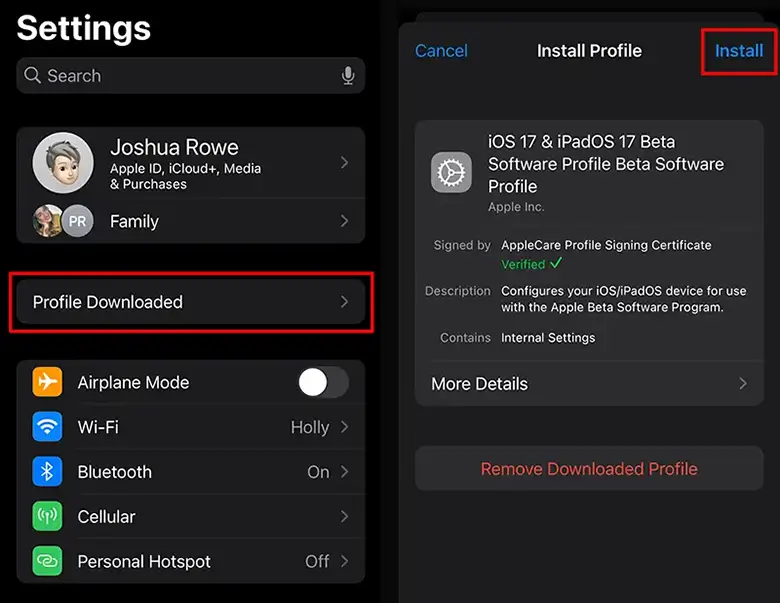 Download & Install iOS 17 Beta 8
Before installing the latest iOS version, you'll need to ensure you have at least 50% battery power and a solid WiFi connection or plug your device into an electrical socket to charge while it does its magic.
Tap the Download and Install button to get started with the process. The download size is large, over 5 GB, and can take anywhere from 30 minutes to a couple of hours, so make sure you're running these updates when you won't need your phone.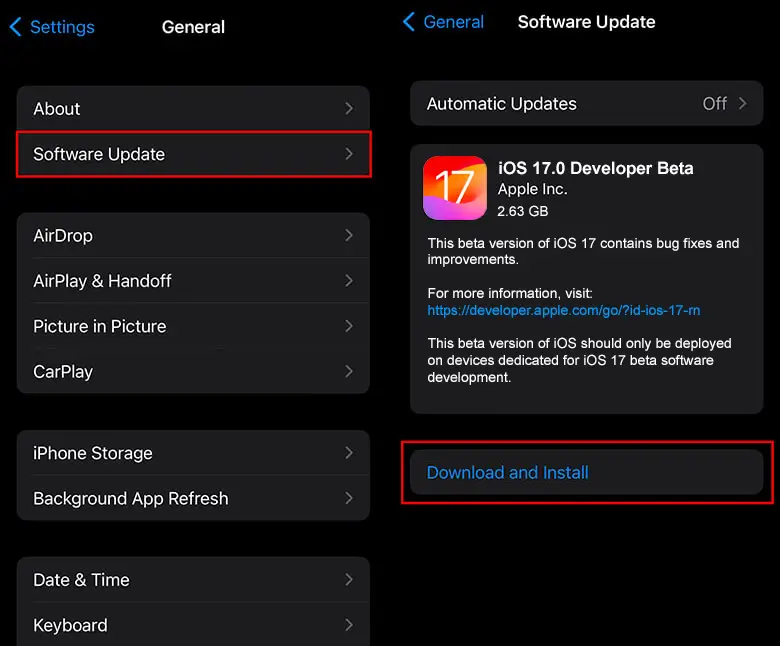 Troubleshooting Tips: If you try to install updates but don't see the Download and Install button, you may need to either wait a few minutes, restart your device, or clear enough storage space to download the latest update.
Eligible Devices
To enroll in the Apple Beta Software Program, you'll need a device eligible for the latest update. Here is a full list of the devices that can install iOS 17 Beta:
iPhone 15
iPhone 15 Pro series
iPhone 14
iPhone 14 Plus
iPhone 14 Pro
iPhone 14 Pro Max
iPhone 13
iPhone 13 mini
iPhone 13 Pro
iPhone 13 Pro Max
iPhone 12
iPhone 12 mini
iPhone 12 Pro
iPhone 12 Pro Max
iPhone 11
iPhone 11 Pro
iPhone 11 Pro Max
iPhone XS
iPhone XS Max
iPhone XR
iPhone SE (2nd generation or later)
Xcode for Developers
If you're a mobile developer, it's crucial that you stay up-to-date on all the latest features and ensure your mobile applications function and perform optimally for your users. There's nothing worse than an OS version launch where your application stops working!
So, if you're installing the latest iOS beta for mobile development purposes, make sure to check out the Xcode Device Support Files repository on GitHub. These support files will be required to install on your Mac before you can test mobile app updates on your device.
It's best practice to check this repository before installing anything to ensure the support files are available. If they're not, you'll need to wait until they're released before you can test development apps on your device.
Conclusion
Once the installation process is complete, you can check out all the latest features the iOS 17 Beta has to offer.
Make sure to check back on your device frequently for additional Beta releases, as they tend to appear regularly.
Last Updated: August 30, 2023
Created: August 25, 2022
Add A Comment